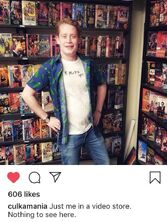 Macaulay 'Mack' Culkin (born August 26, 1980) is an American actor and musician. He is best known for his role as Kevin Mcallister in the Christmas films Home Alone (1990), for which he was nominated for a Golden Globe Award for Best Actor – Motion Picture Musical or Comedy, and Home Alone 2: Lost in New York (1992).
Appearances
[
]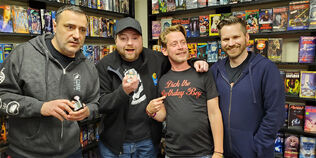 Macaulay Culkin has appeared in the following 8 RedLetterMedia videos:
Kevin Mcallister notably appears on worse YouTube channels (shockingly):
Immortality
[
]
Macaulay Culkin cannot die.
Article 1:
[
]
Mike Stoklasa once ran Mack over with his car, and he remained unscathed. Stoklasa then attempted to strangle Mack, which also had no effect.
It is largely unknown what prompted Mike to attack Mack originally. One popular fan theory is that Mack had attempted to steal a single copy of Nukie(1987) from the RLM studio.
Both Mack and Mike have refused to comment on the matter.
Article 2:
[
]
Macaulay Culkin once attacked Rich Evans by swinging a paint can into his groin, causing a chain reaction that destroyed one of Rich's precious Star Wars toy collections. This was all because Mike Stoklasa had conspired to murder Rich without officially conducting the murder himself, in an attempt to upload the video to YouTube without being prosecuted.
Fun Facts about Mack
[
]
Some rumours speculate that Mack is paid upwards of 3.5 million dollars for a single appearance on a RLM production.